News update for August 2014:
14th August 2014
Janus - Roswell Secrets - Exclusive new Music and Video download special added to the store.
Roswell Secrets has been added to the official Janus Music store and will be available to download in full from 8pm GMT/3pm EST onwards on August 14th 2014. Enjoy the special promo video on the store page detailing all of the amazing music and videos you'll find as part of this special offer. Visit the Roswell Secrets store page HERE
Janus - New Film Soundtrack and album release - 8th August 2014
We are delighted to announce the official release of the brand new music score that Janus has produced for the 1922 classic film documentary "Nanook of the North".
About the project:
In 1910, whilst working along the Hudson Bay for the Canadian Pacific Railway, explorer and prospector , Robert J. Flaherty, first learnt about the lands and the people who inhabited it. He became fascinated with the lives of an Inuk, Nanook, and soon a bond and trust developed between them and Nanooks family.In between 1915 and 1916 Flaherty had captured on film hours of the Eskimo family's daily lives and struggles surviving in this harsh environment.
Owing to an accident when Flaherty dropped his cigarette on the highly flammable film stock, 30,000 feet of the footage was destroyed. Unperturbed, in 1920 he returned to the North to film again for a whole year. The result was a remarkable insight into Nanook's life and ways of the time and the film itself a historical landmark being the first feature documentary of its type. Tragically, Nanook himself became lost in a storm and died of starvation two years after Flaherty filmed him.
In 2012, Janus began work composing and recording a complete and original music score to accompany this classic silent film. Janus himself first saw the film in the early 1970's and like so many generations before and since the film left a huge impact on him. He finally completed work on the project itself in 2014, 92 years after the film was first released.
To mark the special occasion of Janus' release of this innovative and original new soundtrack for Nanook of the North, both the full movie including its new soundtrack plus the music soundtrack album that contains 20 tracks are available to download together for only £7.99. This offer is for a limited period only until the 31st August 2014.
Visit the store page HERE
News updates for March 2014:
Chris (aka Janus) can currently be heard on the Hey Z Radio Network with 2 brand new shows that were launched in December 2013.He is producing and hosting the brand new Tangerine Dream FM Radio Show that airs every Sunday from 4pm (GMT)/Midday (EST) in additon to Transharmonic Highways, his live session chillout music program. The Tangerine Dream FM show, produced in association with Tangerine Dream & Eastgate Music, features the very latest music and news from the worlds leading pioneers of electronic music, Tangerine Dream, and picks up from his highly successful TDFZ shows that ran for several years up until 2009. The newly formatted show can be listened to directly from the main Hey Z Radio Network site as well as TalkStream, TuneIn and YourMuze.FM. The Sunday shows are repeated each Wednesday night 11pm-12 Midnight GMT/6pm-7pm Est and is preceded (both prior to the Sunday and Wednesday night TDFM repeat) with his hour long Transharmonic Highway live shows. You can also keep up totally up to date with both programs at the dedicatedl Tangerine Dream FM Radio Show pages and Transharmonic Highway Show pages.
News updates for September/October 2013:
For anyone that missed the special production of "Broken Silence-The Steve Pierce Story" broadcast on "The Unknown" on 20th November, you can enjoy it below in full on this special YouTube presentation. Steve Pierce was one of the key witnesses to the famous alien abduction of Travis Walton that took place in 1975. For 38 years Steve kept silent and aware from the medias attention. Having recently broken his silence for the very first time and set the records straight he and Janus collaborated to bring his extrordinary own story to life,with special narration by Steve himself and with an original soundtrack by Janus to accompany his story...enjoy!
Fantastic news for all fans of Janus' "The Unknown" Radio show that first hit the aiwaves back in 2011 and which eventually saw the double album release of works to feature from the series. On Wednesday 25th of September 2013, the Hey Z radio network will be re-running many classic episodes from the groundbreaking show each and every Wednesday. Furthermore we can confirm the exciting news that Janus is currently working on plans for a new series of episodes which will begin to air on Hey Z radio following the initial re-run of the original series. The shows themselves will be available to listen to at 7pm (EST) (midnight GMT) and Janus himself will be popping into the stations online chat room to chat with listeners during their broadcasts.Be sure not to miss this latest epic adventure into the unknown at Hey Z Radio.
We're delighted to announce that Janus' acclaimed UFO themed series continues this November with the brand new album release of Skinwalker. Based on the ongoing mysterious occurrences at the Skinwalker Ranch in Utah, his latest sonic journey into ufological history explores the many extraordinary accounts that have taken place behind the location shrouded in secrecy and high level security. More info and updates available shortly.
News updates for June/July 2013:
Brand new studio album now available!!
The latest album by Janus "Chomo - Impressions of an Artist" has just been officially released and is available from the store to buy and download.
The work is a personal tribute and musical voyage created by Janus over the past 5 years to one of Frances most controversial and enigmatic sculpters and painters Roger Chomeaux. Simply known as "Chomo", and having survived his imprisonment in a stalag during World War 2, Chomo returned to France. Here, in a forest in Northern France he lived as a recluse while focusing on his passion of all art-forms.Cut off from the world his very own patch in the forest became a visual universe filled with his unique paintings,sculptures and pieces of art. In the summer of 1984,Janus got a personal invite to visit Chomo, one that would both change and influence his life. The album has been designed to take the listener on a relective journey with Janus back to his time with Chomo and delivers a soundtrack that invokes visual memories of this experience. The album is available from the official store as a digital down load now and contains a special booklet written by Janus in addition to Chomo's biography. A special selection of track extracts are also available on the store player as a taster of this epic new journey.
- "Chomo - Impressions of an Artist" is available to buy from the store HERE
Don't forget to grab yourselves you're very own totally FREE copy of ALIEN CHRONICLES by Janus available in the official store. Simply log in at the official store (or register if you haven't already), download the album.. and enjoy. To go directly the Alien Chronicles album store page CLICK HERE
We've lots of special new release news and announcements of Janus' activities for the summer so without further ado....
Firstly we are excited to announce the following album re-releases which we know many of you have been waiting for and are at last available from the official Janus store.Film-Scapes has finally seen the light of day again after its initial release back in 1998. The album itself, produced solely as a promotional sampler for the film industry at the time, went on to develop its own cult status when one or 2 tracks made their way onto the radio air-waves and even making the number one chart places on several radio shows up until recently. Since then many of the works forming the album have featured on a variety of film and TV projects but Film Scapes remained officially unreleased and unobtainable,that is until now! After several months digitally remastering the original works from the archived recordings Janus has deliverd us this lost gem. The restoration project itself wasn't all plain sailing. With the passing of time,and much of the original tracks exisiting on a varity of audio media 2 tracks sadly were beyond being restored.However, not to dissappoint, Janus set about reworking these lost tracks from scratch and they are included in the official release. For more information,exclusive track previews and to purchase Film Scapes go to its official store page HERE
After rumor for some years of a special edition of Janus' award winning 1998 Roswell album being produced we are delighted not only to confirm the rumors but announce its official release on 6th June 2013. The timing of its release marks the 15th anniversary of the original musical epic and contains some unique extras for fans old and new alike. This special edition album download contains....The original 1998 album in full...5 previously unreleased tracks made for the project but never originally included due to running time restrictions...2 special radio edited tracks by Janus featuring the original 1947 news broadcasts regarding the Roswell incident..a brand new work composed by Janus called "Roswell and Beyond" specifically to celebrate this release. You can now buy the complete download for only £3.99!!! Visit the product page for the 2013 special edition Roswell Album HERE
NEWS: 14th July 2013....FREE ALBUM!!! Now available for everyone download...
Yes the summers is at last with us and here's our special musical gift to Janus fans everywhere to get you in the holiday mood. For your enjoyment is "Alien Chronicles". Its a special selection of 10 of Janus' UFO themed works taken from his albums past and present. All are complete tracks and the whole album is totally FREE...what are you waiting for?...Get your album HERE
New Janus merchandise now available!! After a lot of requests we have recently opened up a special Janus merch with DizzyJam. From our pages there you can now buy an assortment of high quality items ranging from Janus T-shirts,mugs, hoodies and a whole lot more.To check these great items out simply go to our page located HERE
Finally in news for July 2013, we can tell you that Janus has recently been commissioned to score the music for a new Science Fiction movie currently in production and due for release later this year. There will be more detailed updates on this very soon so don't forget to bookmark the site as not to miss out.
The classic UFO Music Series continues...Janus' latest release announced...
We are delighted to announce that work on the latest epic musical venture into historic UFO incidents by Janus, "Abduction At Pascagoula", has just been completed and the album will be available as a digital download from his official music store here on 25th August 2012. The album, joining his collection of previously released and internationally acclaimed works on the subject from Roswell to the Kenneth Arnold Incident and Rendlesham to the infamous Crash At Aztec, this time takes us on a voyage back to 1973 and the historic alien adbduction case of Charles Hickson and Calvin Parker.
This much anticipated addition to the series of musical works by Janus is a definate must not only for those with an interest in the world of UFOlogy but for serious music lovers alike. Known for his dedication to detail with the subject matter of this ongoing collection, for the production of Abduction At Aztec Janus has incorporated some very rare audio material recorded by Charles Hickson himself reliving the various aspects of his abduction experience. Months were spent digitally remastering, cleaning up and editing these particular recordings before they were integrated by him as unique narrative introductions to each of the 14 new original musical creations that make up the whole album.Be sure not to miss this groundbreaking new chapter by Janus out soon.
A special selction of preview tracks is now available to listen to on the player at the music store page for this album HERE. Also please enjoy this new video promo below.
Another new album hot on the heels of Arcanum 432!!
Following the release of Arcanum 432 at the begining of February and its extraordinary success in just a few weeks, we have two fantasticl bits of news for Janus fans worldwide.
Firstly, the long awaited for album and collection of previously unreleased works "The Road Less Travelled" by Janus will be available from the official music store on this site from 30th March 2012.This is great news for everyone but we're are delighted it gets even better!!...
As a huge thank you to everyone that bought Arcanum 432 making it the success it is, "The Road Less Travelled" will be our FREE gift to each and everyone that purchased it. Our small gift to the best fans anywhere! Additionally we have extended this free offer to anyone still wishing to buy Arcanum 432 and who does so by the 30th March. Anyone who has registered on our official store here and bought the Arcanum 432 download before the 30th March will be notified and receive this special Free album redeem coupon for "The Road Less Travelled" shortly.
An enormous thanks to you all again!!!! Music samples and information on the new album will appear on its product page in the store soon ..the link is HERE. In the meantime we hope you enjoy this small video taster that includes a preview of the title track from the forthcoming album.
SPECIAL ANNOUNCEMENT - Arcanum 432 the brand new album by Janus
2012 launches with a real bang for Janus fans everywhere with the announcement of his very latest album Arcanum 432 with its official release from the store on February 14th.A date also asscociated with Valentine's day, a day for lovers.Arcanum 432 is a definate must for music lovers everywhere.
This unique collection of new works (14 in total) created for the album were produced by Janus inbetween July 2011 and January 2012.Arcanum, from the Latin word deep secret or wisdom is another epic and pioneering journey, a musical exploration into the many synchronistic signs, patterns and hidden meanings of life itself. 432 in the title refers to yet another groundbreaking technique Janus undertook when recording the music by creating and processing all the material using 432hz frequency. It has long been believed that the 432 frequency gives rise to a far clearer and more natural listening experience and access to a wider range of sound. 440hz has been the standard and internationally recognised frequency since 1939 when it was first implemented by Joseph Goebbels prior to the outbreak of the second world war.Most of the music you will ever have heard up until this point will have been in 440hz.
432 is also significant in its own right as a unique number when exploring the various meanings of life, cropping up time and time again.Just a few of these intriguing facts you can see in the exclusive Arcanum 432 promo video below for your enjoyment. Don't forget, the Arcanum 432 album is only available from the official Janus music store as a digital download from Tuesday, 14th February 2012.You can buy the album direct from its store page HERE.
We are delighted to announce that Janus and Logan Hawkes are launching their own brand new online radio station Mind Quest Radio on Monday 31st October.This coincides with the world broadcast premiere of their latest major collaborative work together for All Hallows Eve "The Voodoo Queen and the Devil's Wife". Mind Quest Radio is an innovative new genre in radio entertainment and the exciting new platform for the creative partnership and works produced by Janus and Logan. Their vision to bring their unique brand of theatre of the mind presentations for audienecs of the 21st century is now here!! You will be able to enjoy all of their productions at your lesiure from the new station site (archived there permanetly), and by subscribing freely to the RSS feed there be automatically updated and recieve all of their latest productions as the are made available. Go to Mind Quest Radio and explore for yourselves now HERE
We're now on countdown for the forthcoming Halloween radio presentation by Janus and Logan Hawkes "The Voodoo Queen and the Devil's Wife". With special narration by Logan himself and an exclusive musical score by Janus to enhance this tale of terror, the show also features an all star performance by The Unknown Radio Theatre players.It will be airing from the 31st October on numerous stations in addition to being streamed and available to enjoy at your lesisure at different sites.More information and full updates are coming over the next week so be sure to check back here over the next week..This second collaborative partnership between Logan and Janus and hot on the heels of their highly succesful "Close Encounters of the Old West" production is another epic radio theatre experience simply not to be missed!!
November 5th 2011: With the official launch of Mind Quest Radio last week and the archived shows of Janus' acclaimed "Unknown Radio show" series having a brand new home, we're pleased to announce that volume 1 and 2 of a very special collection featuring the original music composed by him for the series is being released this coming week.The "Music from The Unknown" volumes one and two will be available from his official music store on Wednesday 9th November to buy as downloads seperately or as part of our very exclusive offer that we've made available to buy them both to celebrate their release. Visit the store located via this site as not to miss out on the first of this amazing new twin set these recorded works.
We are delighted to announce the very latest album to join the ongoing collection of UFO themed works by Janus, "Crash At Aztec", is now officially released and is available, as with all releases by him,exclusively and only from the music store on this site.Enjoy!
Light Years- The UFO Anthology album by Janus is now available from the official store. The album containing a massive total of 16 tracks from past and present releases also includes several newly composed works in addition to some previously never before released tracks. The album itself marks 30 years of Janus' UFO themed works to date as well as an ideal introduction to his music to the new generation of music lovers discoverig his work for the first time.
We are pleased to announce that you can now listen at your leisure to all past as well as forthcoming episodes of "The Unknown" radio show with Janus from this site.Simply go to The Unknown page and enjoy all of the archieved programs on the media player.From that dedicated radio page also you can subscribe freely to the RSS feed which means you'll automatically have each new show as soon as they become available each week...have fun!!Don't forget you can also tune into the show on Tuesday nights on the Z-Talk Radio network.
News

October 2011
Janus and Logan Hawkes have reuinited their creative forces hot on the heels of their recent highly successful "Close Encounters of the Old West" radio drama epic.The pair,assisted by the all star cast of The Unknown Radio theatre players are busy with production at the moment of the spine chilling Halloween Special "The Voodoo Queen and the Devil's Wife" set to air on 31st October. The show will be avialable permanetly to enjoy from the 31st October from the official Unknown Radio show site,as well as the dedicated Halloween page on the Jerry Pippin site and aired on the Z-Talk Radio network.More info soon.
9th October: Many thanks to all of the Astreux World Radio listeners who voted the track Journeyman by Janus to number one in the listeners charts this week. Journeyman comes from the FilmScapes album initially produced and released back in 2003 so we're delighted fans are still enjoying these old classics as well as the new ones.The track Bigfoot from the Strangers in a Strange Land album was also aired on Bruce Gall's Sunday Synth show this week on ARFM that follows the dedicated show special aired recently celebrating Janus' 30 years in the music.
September 2011
The latest joint radio production by Logan Hawes and Janus hot on the heels of their recent success "Close Encounters of the Old West" radio drama spectacular is "The Voodoo Queen and the Devil's Wife". This Halloween special again written and narrated by Logan with exclusivly scored music by Janus includes an all star cast performance by The Unknown Radio Show theatre players. You can enjoy this amazing All Hallows Eve show on the 31st October from The Unknown Radio Show site (where it will available permanently), a dedicated page on The Jerry Pippin website, as well as on the Z-Talk radio network.More info soon...Join us if you dare!!!
16th September: We are pleased to announce that hot on the heels of the celebratory "Light Years-The UFO Anthology" Album, that Janus' very latest album "Crash At Aztec" will be officially released on Friday October 14th. This conceptual work, joining his collection of ongoing UFO themed albums, explores the alleged crash that took place at Aztec,New Mexico in 1948.The event itself took place a year after the now infamous one at Roswell. In production now for over a year and a half, Janus has again pushed the frontiers of enhancing the listeners experience of this historical event by digitally remastering the original audio recordings of Professor Robert Carr.
Carr sent shockwaves through the Pentagon and AirForce during the 1970's stating that he had evidence and that they had in their possession two flying saucers in addition to the bodies of 12 small humanoids on ice in a refrigerated building at Wright Patterson Field in Dayton, Ohio.Janus has incorporated these recordings into this latest musical exploration adding a very special narrative to this amazing story. The album download will be available to buy from his official store on this site on Friday October 14th.
Be sure to tune into Bruce Gall's "Sunday Synth" music show on Sunday 18th September (10am - 12 noon/GMT) when Janus' new Light Years release is this weeks special featured album.The album has been made available as a free download to all listeners of this program and information on how to get it will be given out on the show, as well as appearing on the "offers" page on this site from Sunday 18th. Listen to the show live at http://arfm.co.uk (show repeated Monday 10pm/GMT).Enjoy the special promtional video made for this Sundays show HERE
10th September: Previously unreleased work by Janus can be heard on Terry Hawkes "Chill-Out Sessions" on 102.3HFM this evening. I hope you can join this great show this Saturday between 10pm to Midnight BST / 2pm to 4pm PDT.You can enjoy the program HERE
August 2011
28th August: Wonderful news just in that Janus' track "Yeti" from his Strangers In A Strange Land Album, has made it to the number#1 spot in their charts for this week voted for by its listeners.
Both parts of this two hour epic venture into the unexplained produced by Janus and Logan Hawkes are now available to permanently enjoy from the official Unknown Radio Show website.Sit back,relax and take yourselves back to the past and how the West was really won..Listen to both episodes of the show HERE
Janus will be the special guest this Friday,26th August on the Kate Valentine UFO Show. The show can be heard live from 1pm (EDT)where he will be discussing his UFO themed work over the years in addition to several exclusive musical works being heard on the program.To tune in simply go to Kate's site HERE
Celebrating 30 years in music, and as a thank you to fans the brand new abum by Janus "Light Years - The UFO Antholgy" will be available to all to download absolutley FREE from his official store for 4 days. You can download the album, that includes a massive total of 16 tracks,some known others previously released plus brand new compositions produced to mark this special occassion from Friday 26th August until Monday 29th August. The download link will be active from Midnight Thursday 25th August (GMT) until Monday 29th Midnight.Here is the direct link to the store page....have fun and enjoy........Light Years FREE DOWNLOAD LINK page.
Exclusive news - Free Janus album download this August!!
We are absolutely delighted to announce that for four days only, from the 26th August to the 29th inclusive the brand new album by Janus "Light Years - The Ufo Anthology" will be available to download totally free from his official music store. The album covering 30 years of his UFO themed albums and musical works to date includes past remastered classics in addition to several rare tracks he has included on it that have not been made available anywhere before.The amazing cover artwork for this album was created by Russell Croutear who designed Janus' Rendlesham album released earlier this year.Simply make note of those special dates in your diary and come and download your own free copy which you will find in his official music store on this site...in the meantime wishing you all a great summer, keep watching the skies and please spread this good news to all of your friends!!
July 2011
Update 22nd July: Janus is currently in the studio working on several major show productions for his The Unknown Radio show.Two specials due to hit the air waves in August are "Close Encounters of the Old West", a two part episode collaboration with writer and broadcaster Logan Hawkes based on his top selling book, and The Tunguska Mystery by Vladimir Rubstov.We'll have more details of these new,not to be missed episodes soon. Meanwhile we can also announce that Janus' long awaited for album "Crash At Aztec" is at post production stages and information on its release date will be with us shortly.
Janus' work features again this coming Sunday (24th July) on Bruce Gall's Synday Synth program so be sure to catch it on ARFM
Janus will the special guest on next months Viewpoints program on the Kate Valentine UFO Show with William Moriates.This live program goes out at 1pm on Friday 26th August.
"The Unknown" Radio Show with Janus goes from strength to strength and is currently now enjoyed in over 35 countries worldwide each week. At present Janus is producing a brand new series of shows for the program featuring the authors of various true mystery and paranormal books narrating their tales personally whilst he continues to add more sonic wonderment and evocative musical accompaniment to each production.Regular fans to the show are now able to enjoy all past and current shows 24/7 from the new dedicated radio page site and by subscribing free to the RSS feed there can now receive each new show automatically as soon as it becomes available.
In other news for July we're delighted to announce that Janus has once more made it into the Top Ten most voted for tracks by listeners on Astreaux World Radio,with his work "Mothman"(taken from his Strangers In A Strange Land Vol 1 album),being voted in at number 3.(playlist for week ending 4th July)
The Unknown Radio Show Listenership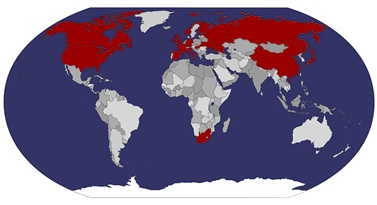 Map Legend: 6%, 17 of 263 Territories

Maroon

















June 2011
Janus-Rendlesham Album Review in UFO Matrix Magazine Issue 6-June 2011.Read this latest full review simply go to the interviews/press page on this site
Be sure to catch Bruce Gall's "Sunday Synth" program this week Sunday 5th June(10pm GMT) on ARFM Radio,when the featured album of the week is by Janus.Other great music from the world of electronic music on the program comes from Tangerine Dream,Robert Schroeder,Code Indigo and many others.Show repeated on Monday 6th at 22.00...tune in at http://arfm.co.uk
Tuesday 7th June's special edition of "The Unknown" show focusing on the Warminster UFO mystery explored in Kevin Goodman's book is currently in production.
May 2011
The Unknown shows for May 2011:
3rd May 2011 - The UFO Music Special - Janus explores some of the origins of ufology including Kenneth Arnold's legendary encounter and the infamous crash at Roswell in 1947.
10th May 2011- Cryptozoology Special - In this edition of the show Janus premieres works from his brand new "Strangers In A Strange Land" album as we explore numerous creature legends from Bigfoot through to the Chupacabra and beyond.
31st May 2011 - UK Paranormal Case Files -A whole range of facinating paranormal cases from within Great Britain are looked into in this special as Janus lifts the lid on stories from the brand new book from reknown researcher and investagative author Malcolm Robinson "Paranormal Case Files Of Great Britain Volume one".Exclusive new tracks on the show from Janus based on these stories include "Virginia","The Ghost Of Henry Spurge" and "Mrs Smith"
We are delighted to announce that the very first album in a brand new series of paranormal and cryptozoological musical works by Janus will be officially released on Saturday 14th May.Volume one of Strangers In A Strange Land takes us into the realms of mythical creatures and legends including Bigfoot,La Chupacabra,The Jersey Devil,J-Rod and many others.Tuesday nights edition(10th May)of his new radio show "The Unknown" on the Z-Talk Radio network will be premiering some of these exciting new works,so be sure to catch it if you can by tuning into the program HERE
Don't forget to buy your copy of Strangers In A Strange Land (Vol.1) from the Official Janus Music Store this weekend.
Catch Janus and his UFO themed music in two great special show features on the Inception Radio Network.Bob will be showcasing works from the Rendlesham album on Thursday 5th May on his Alien Tarmac show(7pm Pacific/10pm Eastern/3am GMT),whilst on Friday Janus joins Jamie Havican on his show with co-host Bob Tarmac for an exclusive interview and music exclusive with him.
During this years Nevada UFO Conference taking place on May 27th,28th and 29th KQLN Radio and affiliate stations will be broadcasting a selection of Janus' UFO music throughout the night in special segments to all of the visitors travelling,camping out and UFO hunting in Tikaboo Valley.The shows broadcast signal itself extends as far as the famous black "Mail Box" for the three nights so this will truly be an amazing experience for all attending.

April 2011
Breaking news April 25th 2011....the "You Can't Tell The People" track from Janus' Rendlesham album is voted number one by its listeners in the Astreaux World Radio charts.Click the banner below to view the music charts.
26th April 2011 -Just announced..Janus will be guest hosting a special one hour music special called "The Unknown" on Z-Talk Radio.The show will be going out at 8pm (Eastern time) on Tuesday May 3rd.You can tune in and listen at Z-Talk Radio's site.Prior to this special,on Monday night 2nd May, Janus will be joining Scotty & Zita on "The Buzz" show on Z-Talk,so be sure to tune in for some lively chat and exclusive new music.
Tune into Bruce Gall's Synth Sunday Show this Sunday 1st May on ARFM Radio where he'll be playing tracks from bothJanus' Roswell and Rendlesham albums.
RENDLESHAM-The Album Now Available.....
We are delighted to announce that the brand new Rendlesham album by Janus is now available to download from the store on this site.To mark this very special event you may wish to take advantage of the exclusive offer that we have made possible,to purchase Rendlesham in addition to his two other classic albums Roswell and S.E.T.I. This launch special of £9.99 is for a limted period only,and ends 30th June 2011.Visit the store today.
We are also delighted to announce also that as from Monday 10th April Janus' other classic 2000 UFO album "Flying Saucers:The Kenneth Arnold Incident" will be available from the store.The acclaimed album itself,exploring the now famous incident over Mount Rainier from which Arnold coined the term "Flying Saucers" for the very first time,has been digitally remasterd and includes additional new material not on the original release.
In other related Janus news... in recent months his original score for the radio drama series TopSecret:Majic has been aired on the Jerry Pippin Show in the US. The play itself was wirtten by Broadway playwright Marty Martin and produced by Carol Dishman.This radio drama was performed by residents of Roswell, many of the cast, had family who lived during the now infamous Roswell incident itself, when Roswell was really just a small spot in the New Mexico desert,and one that not many people were even aware existed unless you were involved in secret World War II operations.Being the base that housed the unit that dropped the A Bombs on Japan to end the war. The radio drama itself has been archived on the Jerry Pippen website and can be listened to in full by going to his site.
Currently Janus is in the studio working on several exciting new projects,more news of which we will be announcing here very shortly.We are also in the process of making available some exclusive material from his vast back catalog of albums and theater works dating from the early 80's onwards.These will be available from the store.At this stage works are to include digitally remastered classics from his pioneering work in gaming music (Dungeons & Dragons),his Journeys series of albums,in addition to orignal scores for film and theater,many being available for the very first time.It is also hoped that the both 1998 special limited editions of Roswell-The Album and the 2003 Perdua Ad Astra EP will be amongst these latest remastered offerings.
With major interest already having been generated by the forthcoming release of the new Rendlesham album, global airplay and interviews and magazine specials with Janus are now in full progress. To keep you up to date with all of these events we will be announcing full details here as they happen as not to miss out.A major review on the Rendlesham album features in the forthcoming edition of UFO Matrix Magazine (Issue 6) available from Newsagents worldwide.